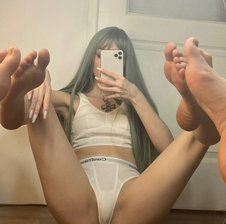 Важни детайли за
seeyoudaddy
| | |
| --- | --- |
| Пол | Жена |
| Сексуални предпочитания | Хетеросексуални |
| Възраст | 19 |
| Височина | 5'4" - 5'6" [160 см - 170 см] |
| Тегло | 90 - 100 фунта [40 - 45 кг] |
| Коса | Брюнетки |
| Очи | Зелени |
| Етнос | Европейски |
| Езици | Английски, Руски |
| Роден град | Белосток |
| Полово окосмяване | Бръсната |
| Гръдна обиколка | Малкa |
| Дупе | Малкa |
I like biting and when they bite me, the smell of my body after a shower, hearing my partner moan, pressing my naked body against the hot body of my partner:)

I like hentai, lesbian, group, and anal porn

I like to have sex in doggy position, with an anal plug in my ass. I love oral sex, when my partner pleasures me with his hand, in which domi.

I like older men:)
Hi:)

My name is Alice and I want to tell a little about myself:)
- I'm from Siberia, I'm 19 years old. I make beautiful, erotic photos and custom videos for my viewers, and I also do broadcasts on websites like this one:) I used to look at black and orange youtube stars, or onliphance models, and think about how beautiful their work is. It's beautiful, it's aesthetic, there's a place to show my creativity, and when I turned 18, I decided I had to try my hand at it. I have no regrets and I am not ashamed of my work. My family and friends respect my choice, not everyone was ready to accept me, of course, but still most of my relatives stayed close.

- In my spare time I do yoga, cook from recipes from the Internet and then try it (by the way I'm a student and I'm studying to be a cook :) ), on weekends I try not to sit at home: I walk, meet with friends, sort out the accumulated cases, etc.
I have a cat and a tattoo in her honor on my left side, under my heart, on my ribs. My dream is a dog, I wish it were a corgi:)
I like thrillers, minimalism, fantasy video games and milkshakes:)

TOOLS AND THINGS:
- I have a sex machine.
- dildo
- anal plug
- i have a domi interactive toy from lovens
- stiletto heels, open-toed shoes, pointy toes.
- mesh pantyhose.
I don't like it when people don't understand the word "no."

I do not like it when they call "bitch, slut, nipple" and other words that are considered as compliments. I am not against such words during games, but outside of this please refrain from it, please:)

Also I do not like to talk about politics, religion, and history.

It is very important to me that my viewers feel comfortable with my broadcasts, and I hope that they also care about my comfort. Please refrain from insulting each other and me as well. I believe that any conflict can be resolved with censorious words, friends! :)
Какво правя на уеб камерата
Работно време на seeyoudaddy
Аматьорски клипове на seeyoudaddy
My body is covered in oil and my wet pussy is being fucked by a sex machine
2:00
Гледания

18
КУПУВАНЕ 321 токена
Списък с желания на seeyoudaddy
1

Прочетете повече
2

Прочетете повече